Here at the Charlies Social Club (or Sir Charles Gairdner Hospital Social Club Inc.) our mission is to build community and connections for staff, volunteers, students and those that work so hard at Sir Charles Gairdner Hospital and on our QEII medical centre campus, by bringing people together.
We are run by passionate volunteer staff, for staff.
The club was established in 1975. Set up by staff and hospital management with the purpose......

The first "theme" or motto of the social club in 1977 was "Togetherness". The purpose and motto of the social club has changed little since 1975. Our purpose is still providing amenities for all hospital staff and our theme is bringing people together, building community and connections and developing a positive culture of inclusion. 

While we started as a staff organisation in 1975 solely for Sir Charles Gairdner Hospital staff (unfortunately excluding volunteers, students and contractors), this changed in the early 2000's to include other personnel and areas the campus with whom SCGH staff interact with professionally and socially - to continue to build an inclusive campus culture. These organisations include other Dept of Health, Research and private organisations such as the North Metropolitan Health Service, Pathwest, Lions Eye Institute, University of Western Australia, the Harry Perkins, QEII Trust, Perth Children's Hospital and many more.
Interested in more history Social Club history? Click below to go to our vault on all things historical. Photo's, office bearers, staff, life members..... feel free to contribute! Our history is about the people behind our organisation.


We aim to achieve our goals of building community and connections by bringing people together at weekly events, health & fitness activities and by providing other benefits and services to staff and members. Building and belonging to community is not just about bringing people together, but enabling and encouraging people to improve their health, fitness and wellbeing in whatever form is most comfortable for them.
By bringing people together, and facilitating wellness through health & fitness and social activities we provide a valuable support network for staff, build an inclusive and positive culture, and contribute in a small but positive way to the delivery of state health services and staff wellbeing.

Social membership is open to anyone who upholds the mission of the association, and starts from as low as $2 per week. This includes a large number of services made possible by members funds and time, but also by the foresight and support of the Sir Charles Gairdner Hospital and North Metro Health Services Executives, who have provided the space for staff to utilise for the Social Club for over 35 years.
The Club runs a 24 hour gym and health and fitness centre, clubrooms (Charlies Bar), and an office in R Block where the Club is administered from by our friendly and dedicated staff. These facilities are a valuable resource for the Social Club and staff, and allow and facilitate a range of activities including but not limited to....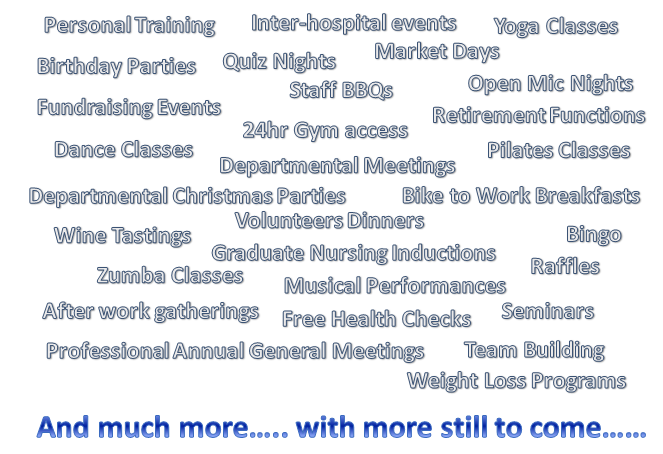 Charlies Social Club is a not for profit association run by volunteer Staff to provide services and amenities for staff, students and volunteers at the Hospital and on the QEII Medical Centre Site. Club operations are ultimately overseen by the elected management committee (see below for details). The management committee oversee the use of members funds to provide, upkeep and develop services, facilities and employ the staff required to effectively run the Social Club.
The Club is about providing for the social and health & wellness needs of members and non-members, as well as contributing to, and encouraging worthy activities to improve the health & wellbeing of workers, visitors and patients to our hospital and site.
To assist the management committee there are administrative staff, health & fitness staff and bar/event staff. All of whom are essential in bringing events and services to members.

Social Club operations are managed by the management committee. These volunteer members are elected at the annual general meeting and have one year terms. The committee consists of 8 elected members plus a nominated non-voting member appointed by the Sir Charles Gairdner Hospital Executive. Four of the elected committee are elected or appointed as office bearers, including the President, Vice President, Secretary and Treasurer.
The management committee run the Club according to the constitution which is available here, or copies can be requested through the office at scgh.socialclub@health.wa.gov.au . To assist the management committee, staff, volunteers and members, the Social Club uses an ISO9001:2015 compliant Quality Management System, which acts as the bylaws of the Social Club. This document management system captures risks, risk management, policies, procedures and requirements of various committee, staff and volunteers.
Further details on the exact make up of the management committee, or minutes can be requested here. We have stopped publicising contacts on the website due to several scam attempts. You can see a list of past office bearers, staff and life members since 1975 on our History page.